Embrace the Unstoppable: Explore Our Fat Tire E-Bikes! Designed for any weather condition , our rugged and weather-resistant eBikes ensure reliability and durability. Experience the pinnacle of comfort and exhilarating performance as you embark on thrilling adventures.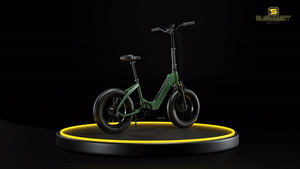 Limited time
Special offer
Use code "SUMMER" at check out to receive 100£ discount on our STARSFLY 6151 folding E-Bike
Shop This
Welcome to Bsmart Electric the best Fat Tire E-Bikes shop in London, where
thrilling adventures meet cutting-edge technology! If you're an avid cyclist
looking to elevate your biking experience or a curious explorer seeking a fun
and eco-friendly way to tour the city, our shop has everything you need to
embark on an unforgettable journey.
Unleash the Power of Fat Tire E-Bikes
Our shop takes pride in offering a diverse selection of top-of-the-line fat
tire electric bikes. These e-bikes are specially designed with wide, durable
tires that provide superior traction, making them perfect for exploring various
terrains. Whether you want to conquer city streets, venture into the
countryside, or tackle off-road trails, our fat tire e-bikes
are up to the challenge.
Effortless Riding with Electric Assistance
Say goodbye to steep hills and long rides leaving you exhausted. Our fat
tire e-bikes come equipped with powerful electric motors that provide
seamless assistance as you pedal. You'll experience the joy of effortless
biking, with the freedom to choose your level of exertion. Easily cover long
distances and make the most of your time exploring London's hidden gems.
Eco-Friendly and Sustainable Travel
As passionate environmental advocates, we believe in promoting sustainable
transportation solutions. Our fat tire e-bikes run on
electricity, reducing carbon emissions and minimizing your environmental
impact. Embrace green travel and be part of the movement towards a cleaner,
greener London.
Explore London Like Never Before
London's rich history, stunning architecture, and vibrant neighborhoods are
best experienced up close. Our fat tire e-bikes provide you
with the perfect mode of transportation to delve into the heart of the city.
Cruise through famous landmarks like Big Ben, Buckingham Palace, and Tower
Bridge with ease and style. Explore the lesser-known corners and charming
alleyways that are often overlooked by traditional tourist routes.
Expert Guidance and Customer Support
At Bsmart Electric, we are more than just a shop; we are a
community of passionate cyclists dedicated to helping you make the most of your
adventure. Our knowledgeable team is always ready to assist you in finding the
perfect fat tire e-bike that suits your preferences and needs. We provide
expert guidance , answer your questions, and ensure you leave with the
confidence to conquer the roads.
Test Rides and Demos
Choosing the right e-bike is a personal experience, and we want you to feel
comfortable with your decision. That's why we offer test rides and demos of our
fat tire e-bikes. Feel the thrill of zipping through the
streets as you test out the power and comfort of our e-bike models.
Maintenance and Support
Your journey with us doesn't end after your purchase. We provide excellent
after-sales support and maintenance services to keep your e-bike running
smoothly. Our team is dedicated to ensuring that your fat tire e-bike remains
in peak condition, ready for all your future explorations.
Join the Fat Tire E-Bike Revolution
Are you ready to take your cycling adventures to new heights? Embrace the
convenience, power, and excitement of fat tire e-bikes. Order
now from our Bsmart Electric shop today, and let us fuel your
exploration with our top-notch e-bike collection and exceptional customer
service. Unleash the potential of your London journey with Fat Tire
E-Bikes!
( CITY E-BIKES) ( SPORT E-BIKES )
READ CAREFULLY
Please ensure that you operate your electric bike/scooter within all UK laws. Electric bikes with throttle (over 15.5MPH and 250WATT) are not to be used on footpaths, cycle lanes, or roads.
Customers assume all liability and risk associated with e-bike use and holds bsmart electric.com, bsmart technology Ltd and its owners free from any liability caused by their use.