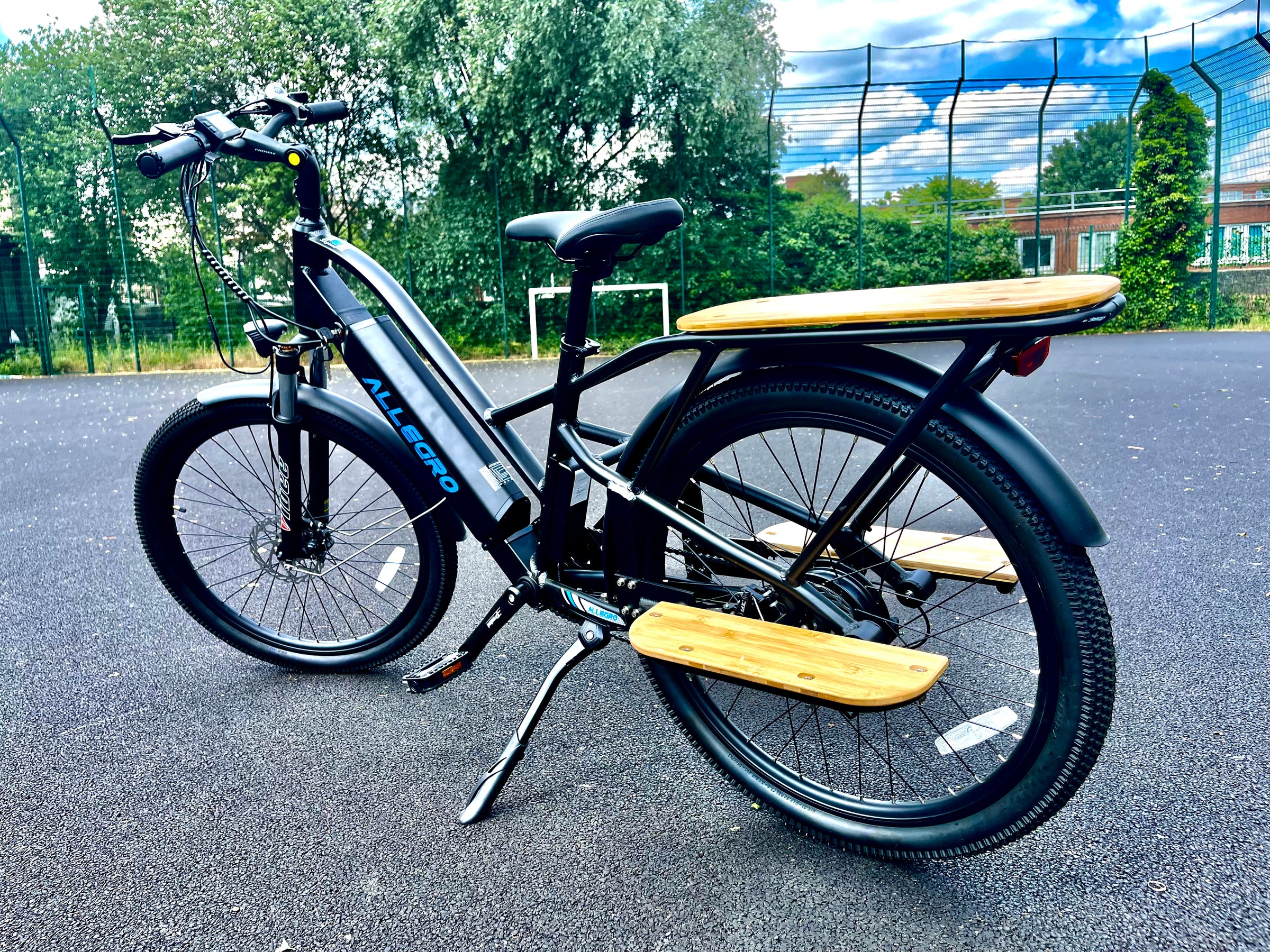 Navigate the bustling streets with ease and style. Effortlessly conquer the city with our stylish city e-bikes, combining eco-friendly commuting with cutting-edge technology. Say goodbye to traffic congestion and parking hassles as you effortlessly glide through the city on our electric bikes.
Limited time
SPECIAL DISCOUNT
Use code "SUMMER" at checkout to receive 100£ Discount on our best seller Allegro 6135
Shop This
Welcome to Bsmart Electric, the ultimate destination for stylish city
e-bikes that seamlessly combine eco-friendly commuting with cutting-edge
technology. Say goodbye to traffic congestion and parking hassles as you
embrace a smarter and more enjoyable way of getting around the city.
Eco-Friendly Commuting, Redefined
At Bsmart Electric, we are passionate about promoting sustainable
transportation solutions. Our stylish city e-bikes are powered by electricity,
making them a greener alternative to traditional gas-guzzling vehicles. By
choosing our e-bikes, you contribute to reducing harmful emissions, helping to
make the city's air cleaner and more breathable for everyone.
Unleash the Power of Cutting-Edge Technology
Our city e-bikes are not only environmentally friendly but also
technologically advanced. Equipped with state-of-the-art electric motors, our
e-bikes provide you with a seamless and efficient riding experience. Cruise
through the city streets effortlessly, conquer hills with ease, and enjoy the
freedom to explore more without breaking a sweat.
Stylish and Practical Designs
We understand that style and practicality go hand in hand when it comes to
city commuting. That's why our e-bikes boast sleek and modern designs, perfect
for fashion-forward urbanites. From classic aesthetics to contemporary looks,
we have a diverse range of e-bike designs to match your unique taste and
personality.
Convenience Redefined
Navigating through traffic jams and searching for parking spots can be
incredibly frustrating. With our city e-bikes, you can conveniently weave
through congested streets and reach your destination without delays. Zip past
gridlocked traffic and arrive at your workplace or favorite hangout spot
feeling energized and ready to tackle the day.
Explore the City's Hidden Gems
London is a city with a rich tapestry of culture and history, waiting to be
explored. With our city e-bikes, you have the freedom to discover hidden gems
and lesser-known corners that may be difficult to access by other means of
transportation. Experience the city in a whole new light as you effortlessly
glide through its vibrant neighborhoods and iconic landmarks.
Expert Guidance and Support
Choosing the right city e-bike is essential to enhance your commuting
experience. Our team at Bsmart Electric is dedicated to providing you with
expert guidance and support. We will help you find the perfect e-bike that
matches your preferences and lifestyle, ensuring you make an informed decision.
Test Rides for a First-Hand Experience
We believe that you should feel the thrill of riding our city e-bikes before
making your choice. That's why we offer test rides, allowing you to experience
the sheer power and comfort of our e-bikes firsthand. Discover the joy of
riding in style and make an educated decision about your urban commuting
companion.
Join the Bsmart Electric Movement
Ready to revolutionize your city commuting experience? Embrace the
convenience and elegance of our stylish city e-bikes. Visit Bsmart Electric shop today, and let us show you how our cutting-edge e-bikes can transform the
way you navigate the city. Say goodbye to traffic congestion and parking
hassles with Bsmart Electric - the smarter way to ride in style!
READ CAREFULLY
Please ensure that you operate your electric bike/scooter within all UK laws. Electric bikes with throttle (over 15.5MPH and 250WATT) are not to be used on footpaths, cycle lanes, or roads.
Customers assume all liability and risk associated with e-bike use and holds bsmart electric.com, bsmart technology Ltd and its owners free from any liability caused by their use.